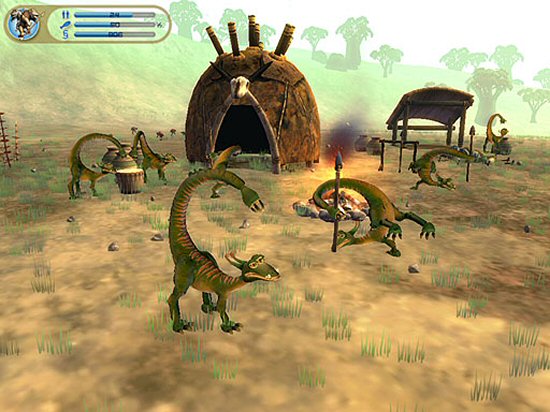 Spore is the long-awaited new game from legendary game designer Will Wright, creator of the legendary SimCity and incredibly popular The Sims franchises.  Both SimCity and The Sims were innovative PC strategy titles, but Spore is easily Wright's most innovative game yet. 
Summing up Spore is a difficult task, as it is an extremely ambitious game that doesn't easily fall into a specific genre of video games.  Generally speaking, Spore is a game in which the player creates a unique organism and controls its evolution from single-celled organism struggling to survive in the primordial ooze to galaxy-spanning advanced civilization.  If it sounds ambitious, that's because it is. 
Does Spore live up to the immense hype surrounding it?  That's where I come in.  I'll be explaining to you, the reader, my thoughts on how each one of the game's five stages (Cell, Creature, Tribal, Civilization, and Space) play.  Are they uniformly excellent, or do some stages falter while others shine?  I'll let you know as I play each of them.  Since I haven't been playing the game as much as I'd like to (due to other commitments), I've only reached the Tribal stage, so for now, I'll give you my impressions of the first three stages of the game (those being Cell, Creature, and Tribal), with my impressions of the later stages to follow whenever I reach them.
Cell Stage 
Spore begins with an asteroid colliding with a planet (which you name), creating life on the planet.  You start as a small organism in a primordial ooze, trying to defend yourself from larger organisms while looking for food to eat.  The first choice you must make is an important one; you must choose whether your organism is a carnivore (meat-eater) or herbivore (plant-eater).  As an herbivore, you must eat small green plant pellets while avoiding every other creature; however, I chose to play as a carnivore.  As a carnivore, you must eat meat, which means you must attack other organisms in order to survive.  Actually, a good strategy is to wait for another organism to eat a smaller one and steal the meat, but eventually you'll have to hunt another organism.  However, other organisms will have defensive mechanisms to ensure that eating them will be a pain.  Some will be extremely fast, while others will have sharp spikes to ward off predators.  This is where the very simple evolution of your organism comes in.
As you (or another predator) kill certain organisms, you gain an upgrade that will enable your organism to either kill others more easily or defend itself better in case of attack.  There are only six upgrades in all, but you still might not get them all, as they are pretty hard to find.  The editor for installing these parts onto your organism is very similar to the Spore Creature Creator released earlier this year, except on a much smaller scale, of course.  The editor is very flexible and allows you to basically create any kind of weird organism you want, but it's still very limited for now.  The Cell Stage will only take you about an hour to complete, but it's extremely fun while it lasts.  Once your creature reaches a certain point from eating enough meat or plants, your creature can evolve to the next stage, the Creature Stage.
Creature Stage
This is where things start getting a bit more complicated, and it also happens to be my favorite stage of the game so far.  Creature Stage is basically a simple action game.  You start out as a creature (defined by the upgrades you gave your organism during Cell Stage) making its first steps on land.  The goal of this stage is very similar to the Cell Stage; basically, you either eat meat or plants while trying to upgrade your creature with new parts.  However, Creature Stage is more complex; as a carnivore, you basically just try to eat every other creature you see, but as an herbivore, you must make friends with other creatures through social interactions such as singing and dancing for them, which is very simplistic.  However, being a carnivore, my species was forced to hunt down other creatures in order to survive.
In Creature Stage, your creature has a number of abilities, some of which were defined by the upgrades made in Cell Stage, while others are discovered by exploring the world.  There are hundreds of upgrades to find in Creature Stage, which can be applied to your creature in the Creature Creator (the same one as in the retail release earlier in the year).  The Creator is very flexible and easy to use, allowing you to easily create any creature you want.  However, certain parts bestow your creature with ability points, such as increased defense or health, while others give your creature new abilities, such as singing or spitting poison.
When your creature encounters another creature in the Creature Stage, you can either try to befriend it (as explained above) or attack it.  However, you don't simply have one attack available; instead, you have a few attacks that must be recharged over time, meaning you must use a bit of strategy in determining which attack to use and when.  You can also get other creatures (either your own species or a different species) to follow you and aid you in battle, which helps against tougher enemies.  By killing enough examples of a species, you can then make that species extinct, too, which is really cool.  Since other players created most of the creatures you encounter, this makes you feel accomplished, if a bit devious.
This stage is also extremely funny-seeing your creature eating another or performing some strange mating dance to have children (which is how you edit your species in the Creature Creator) will have you laughing, even if it does grow a bit repetitive over time.  This stage is over in a few hours, but it's really fun while it lasts.
Tribal Stage
So, we come to the last stage I've played so far, and it's easily the weakest.  While I haven't played through it all yet, I have played through enough of it to know that it isn't the strongest gameplay experience I've ever had.  Now that your creature has evolved and increased in numbers, they now become a primitive tribe.  You no longer control one member of your species, but a few at a time.  You also don't upgrade your creature anymore, which makes this stage a little boring.
Once again, you either try to befriend other species (this time, by playing a musical instrument for them) or conquer them.  Neither of these methods is very fleshed-out.  Basically, you either create enough music with another tribe to make them friends with your tribe (yawn), or rush them with enough members of your tribe to defeat them in a very simple battle.  There's hardly any strategy needed, which is compounded by the fact that there is only one resource available to gather-food.  However, collecting this food is no fun, as you must manually make your tribe members collect food; they will just stand around and do nothing if you don't give them orders.  At least the animation for collecting food is extremely funny, but it's still too boring and time-consuming.  Your ultimate goal in this stage of the game is to either befriend or eradicate enough rival tribes to where your species is the dominant one on the planet.  You'll want to escape this stage as quickly as you can, as it's not very fun and seems pointless.  Hopefully, the remaining stages of the game (Civilization and Space) will prove to be more fun.
Now THIS is great gaming news! What do I do now?
1. Subsribe to Gaming Moments!
3. Bookmark this post on del.icio.us
Comments